NeoMetrix 3D Solutions FREE Consultation Request
Please fill out our quick form to receive your SPECIAL OFFER, plus more information regarding 3D tech & solutions.

3D Scanning Services:
NeoMetrix offers high accuracy 3D scanning services for reverse engineering and computer-aided inspection applications. The 3D scanner employs optical projection, either laser or structured light, and one or more cameras in order to rapidly capture the most complex shapes. We employ a variety of professional grade 3D scanning technologies from world class manufacturers such as Creaform, FARO & Steinbichler. We have the capability to scan objects as small as a dental implant, up to as large as an entire building. Our engineers are also experts at converting the raw scanned data to usable 3D CAD models in common formats such as STEP, IGES, as well as parametric models in Solidworks. Contact us today to learn how we can put our expertise to work for you.
3D Printing Services:
3D printing is a cost effective method to analyze your part designs before committing to the high cost of tooling development or the machining of production parts. NeoMetrix utilizes MultiJet, PolyJet, CFF, FDM, SLS and SLA technologies for 3D printing. Our 3D printers can produce parts in a variety of different photopolymer materials. Ultra fine layer thickness create accurate, clean, smooth and highly detailed 3-dimensional models for a variety of applications:

Rapid Prototyping
Concept Modeling
Silicone Molding
Additive Manufacturing
Rapid Tooling

Our engineers will work with you to determine the best material and process for your project. Whether you're looking for a quick prototype or a durable, end-use part, we can help.
3D Scanning & Reverse Engineering an Aircraft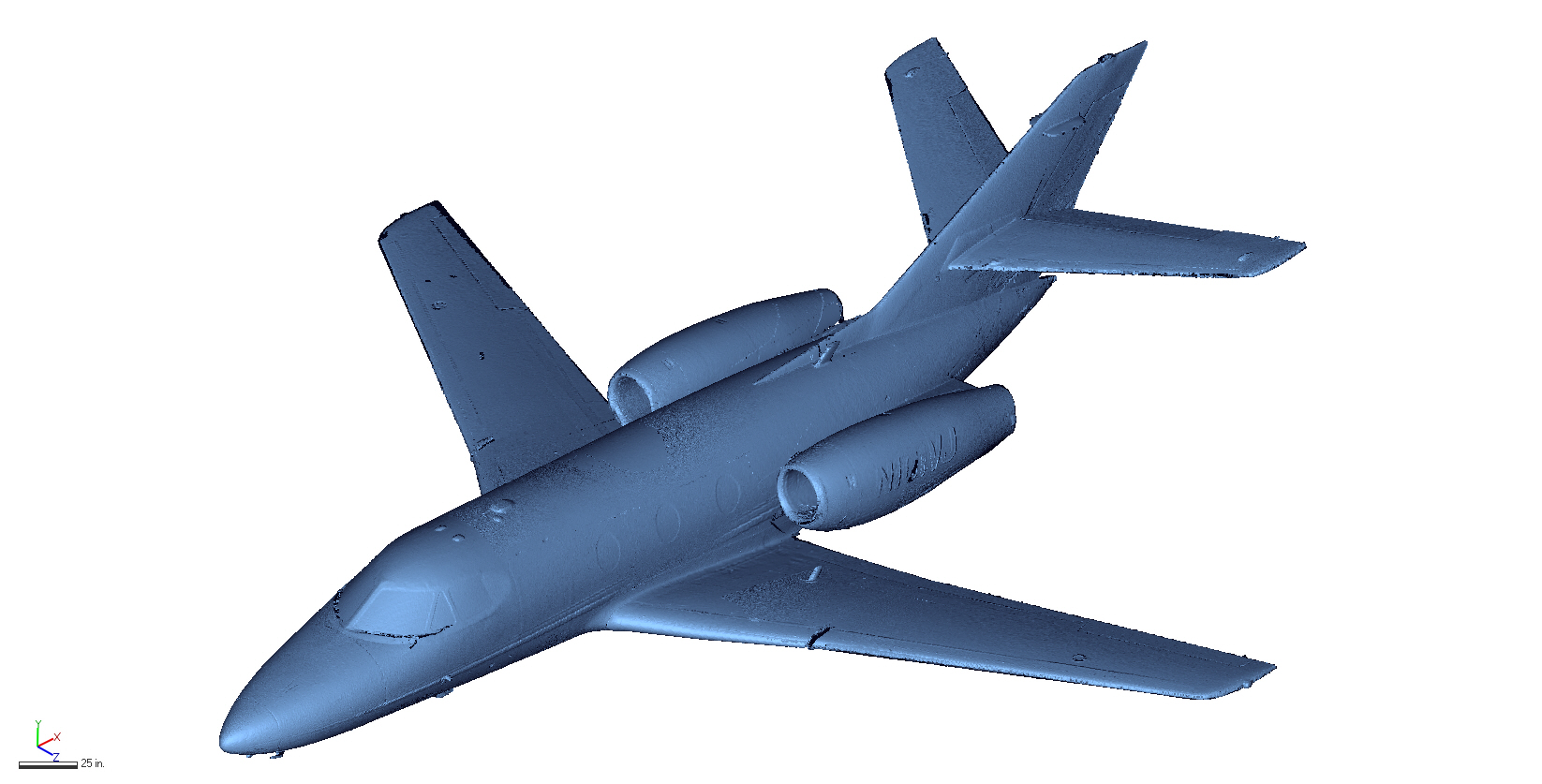 To capture the exterior of the plane, the Faro Focus long-range scanner was chosen for its ability to cover a lot of area in a relatively short period of time. Scans were taken in many different positions around the plane, including shots from above with the use of a lift. The full interior was also scanned with the Focus for general feature layout.
For the various internal components, the Creaform MetraSCAN handheld system was chosen due to its unique ability to take accurate measurements in harsh metrology environments. It's wide temperature working range, and capability to track the part even when under vibration or movement made it perfect to scan directly in the hangar.
3D Scanning & Reverse Engineering Auguste Rodin's "The Thinker"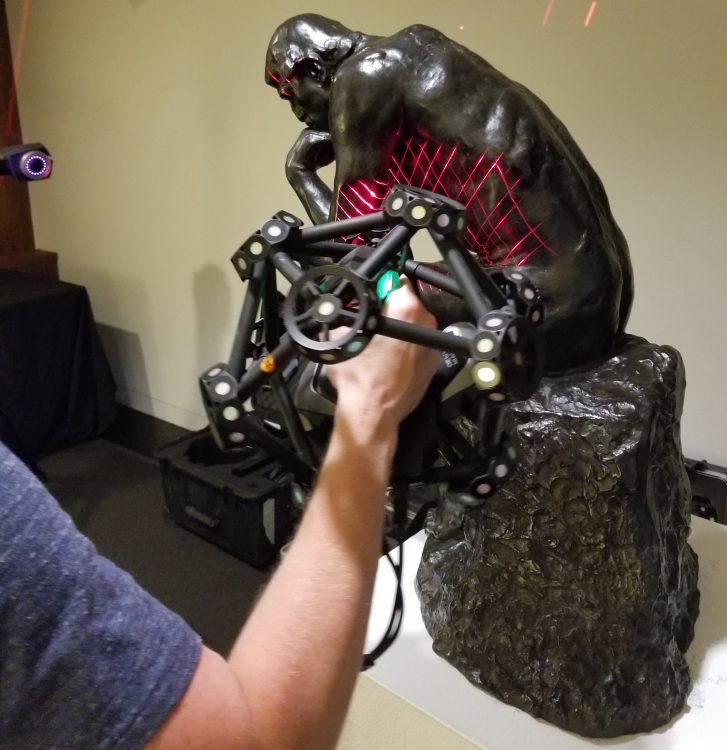 Using our
MetraSCAN 750 3D scanner
from Creaform, we are able to create a 3D duplicate of any physical object. With the
MetraSCAN
, we are able acquire
3D scan data
with a level of accuracy of up to .0001 mm in just a matter of minutes.The
MetraSCAN
uses a bar with cameras and LED's called the C-Track that is able to track the location of the
handheld scanner
. This setup method allows users to conduct scans on objects without having to place reference targets on the object's surface.
Once scanning was completed, we designed in a space for the counterweight in the back. After this, we aligned it in
Geomagic Design X
.
Design X
is a complete software application for creating
CAD models
from
3D scan data
. With
Geomagic
, you can open data from any
3D scanner
and quickly create editable, parametric solid models of virtually any physical object. After aligning the scanned data, we cleaned it up in
Geomagic Wrap
. Wrap features intuitive "Exact Surfacing" tools which allow us to deliver a flawless
3D CAD model.
We then delivered 2 cleaned STL files. One file had a solid bottom, and the other had the interior features we scanned.
3D Scanning & Reverse Engineering a Transmission Case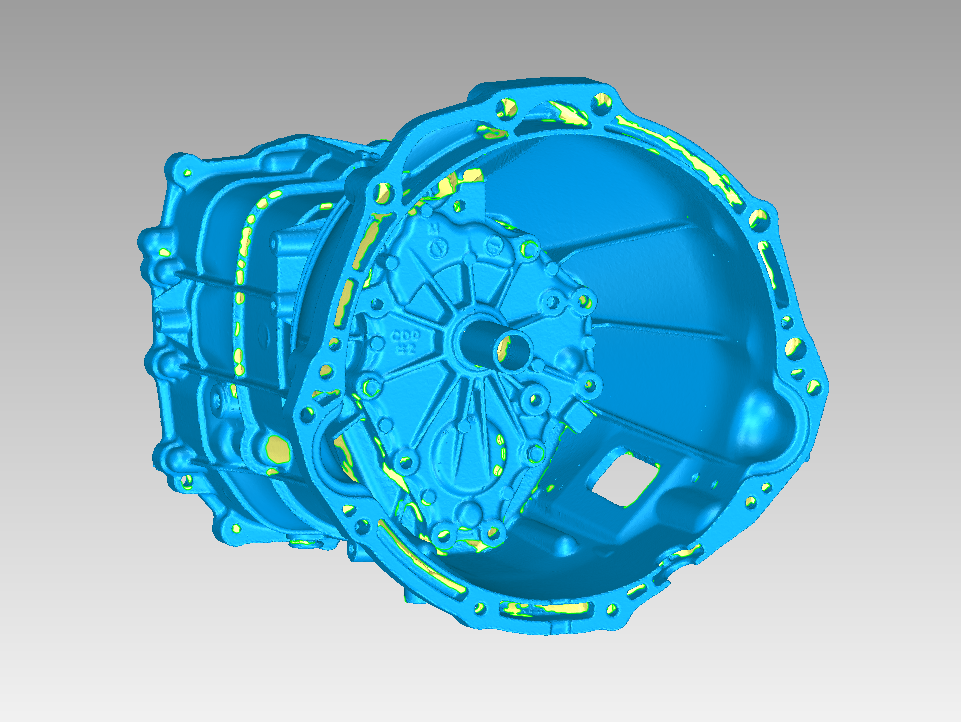 We offer quick reverse engineering solutions. We can digitally replicate any part whether it is no longer in production, or its designs are outdated. We do so using the Creaform HandySCAN. This 3D scanneris portable, easy to set up and accurate collecting data points within 0.001 – 0.002 inches.
The setup includes calibrating the scanner, which takes one minute, and then the part is targeted up to provide points of reference for the HandySCAN. The targets allow the part to be moved and repositioned to ensure the entire surface is scanned. Unlike other scanners, the HandySCAN handle vibrations and movements while not sacrificing quality in the scan. The result is a 3D mesh model that provides accurate 3D data which the client can use to create an accurate parametric model and attain measurements instantaneously without doing any by hand. A CAD model can be modeled directly from the .STL which results in quicker modeling with higher quality.
3D Scanning & Reverse Engineering a Pistol Grip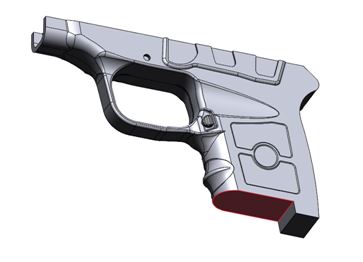 Using the Steinbichler L3D Laser Scanner, a scan of a small volume object is captured within an hour and exported as an STL file. The scanner produces data that is accurate within 0.001 inches. In this case, the grip handle of the Taurus Spectrum is scanned, and the mesh can be seen in figure 4. The scanner is able to digitally replicate every detail on the gun grip with incredible accuracy.
As previously mentioned, the customer needs a solid model with a high level of accuracy primarily around the trigger where the laser would mount. In order to use the mesh data from the scan, some maintenance needs to be performed on the mesh using Geomagic Wrap. Wrap provides tools to clean any features in the mesh such as holes or bumps along the surface.
3D Scanning & Modeling of a Boat Hull and Deck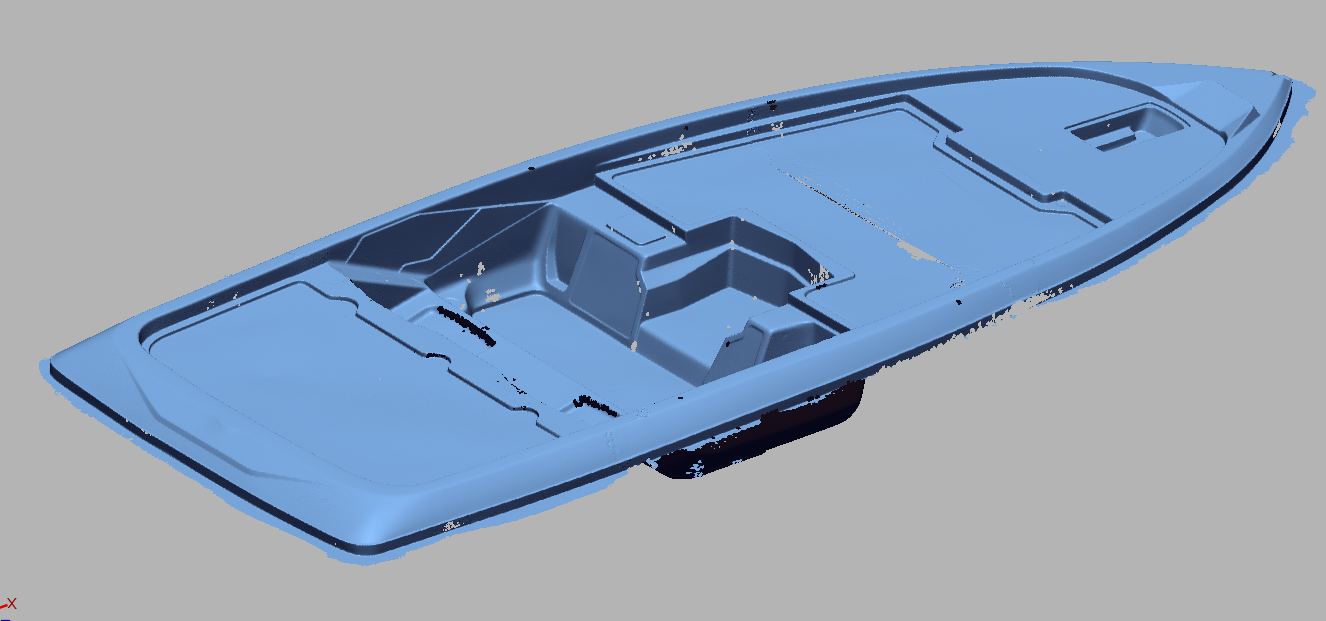 3D scanning is the perfect solution to this problem. Boats have many complex surfaces that cannot be easily measured. 3D scanning collects millions of points of extremely accurate data.
First the boat components are scanned with long range and short range scanners. Using the combination of short and long range capturing, a high amount of data can be captured with minimal error buildup.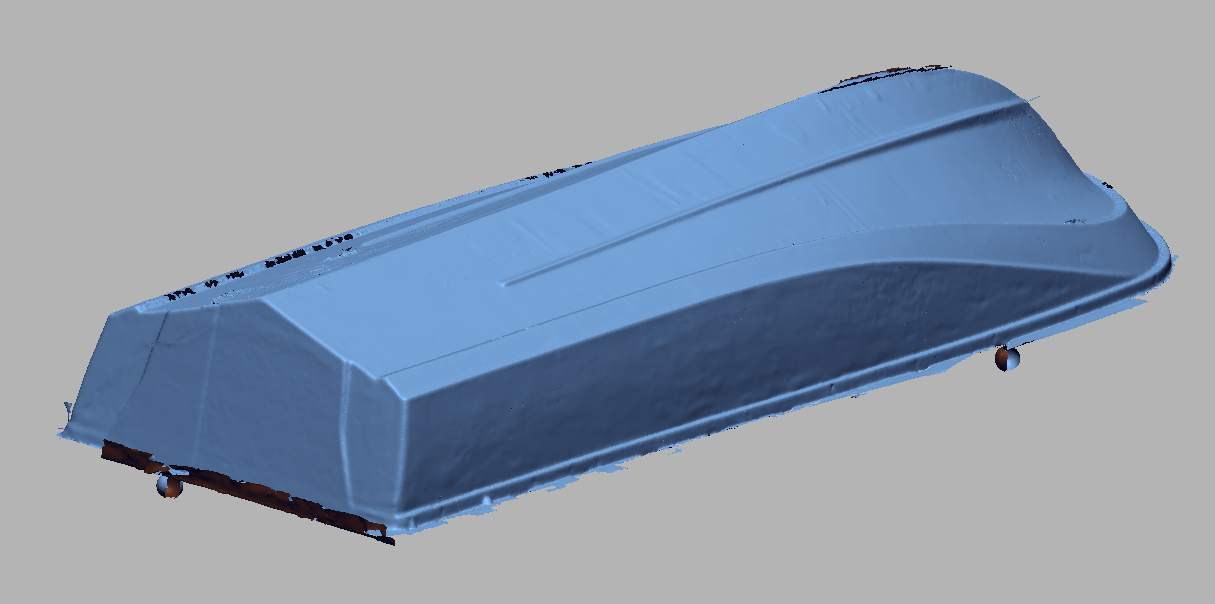 This data is then imported into Geomagic DesignX, a powerful reverse engineering software. The imported data is easily aligned and merged using straightforward built-in wizards and tools. From the scan data, a fully defined 3D model is created, using standard and complex modeling tools.
This model is then sent to Gregg in a standard CAD file format. He can then take this file and modify it per his customer's design goals.
3D Scanning & Modeling Tooling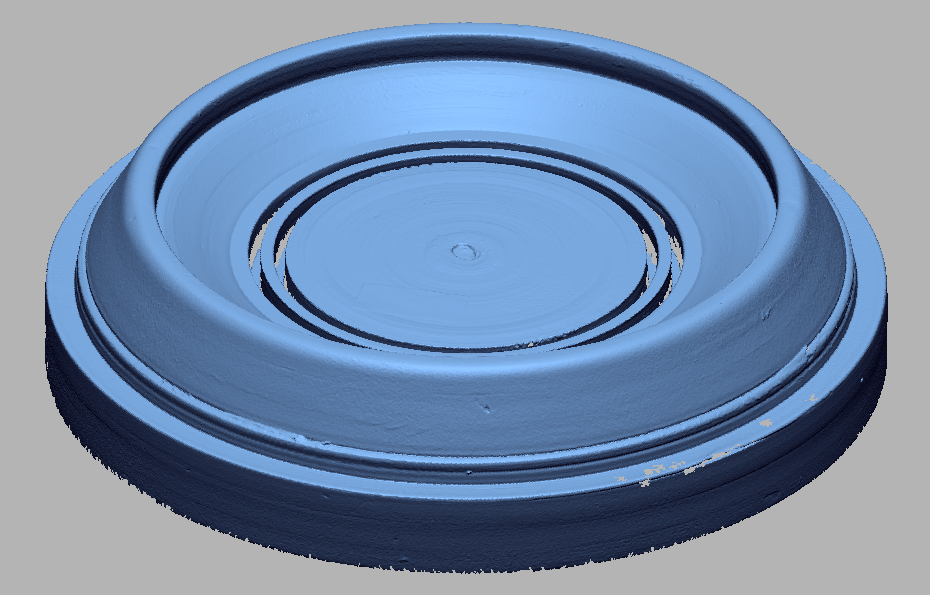 NeoMetrix uses the latest in 3D scanning technology to be able to capture complex geometry quickly, efficiently and accurately.
The scanner chosen for this project is the Creaform MetraSCAN. The MetraSCAN is a powerful laser scanning system that uses a tracking bar (C-Track) to track the location of the scanner. This means that the object being scanned needs minimal or no reference targets. The laser scanner itself records hundreds of thousands of data points per second, allowing for very quick data acquisition.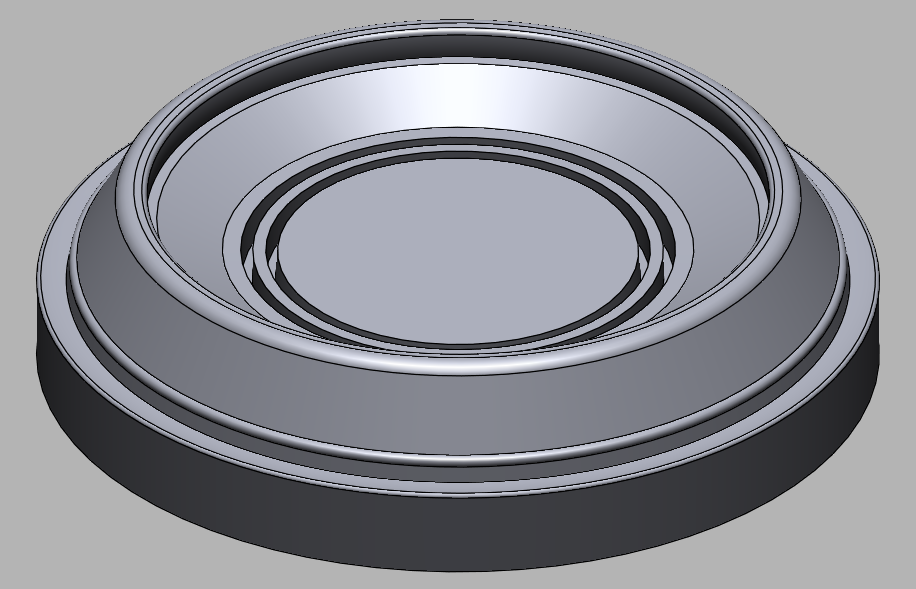 Each tool is positioned in front of the C-Track, and is then scanned. With the fast data
capture rate, each tool can be scanning in a matter of minutes. Once the tools are all scanned, the scan data is directly imported into Geomagic DesignX, a powerful reverse engineering software package. Once the data is imported, a model can be created. Using simple sketch tools, a profile of the tool can be extracted from the scan. This sketch can then be revolved to create the entire tool.
This solid file is then exported as a parasolid (or any other standard CAD file type) and then delivered to Metal Industries. They can then use this file to manufacture new tooling.
Development of Quick Connect Prosthetic Joint

The NeoMetrix method of reverse engineering employs the use of 3D scanning technology for rapid and accurate data collection of complex geometry. The scanner of choice for this project was the Zeiss Comet L3D. Rajesh's joints scanned into CometPLUS software. The captured data was directly output as a triangulated mesh or STL file.
This mesh was then imported into Geomagic's Design X reverse engineering software, where it was used as the guideline for generating the new CAD model of the part. Cross-sectional sketches were developed based upon the scanned data and subsequently used to generate solid bodies through traditional modeling methods, such as extrudes, lofts & sweeps.
Design X also allows for comparison of the final model back to the original scanned data to ensure accuracy to the original part to ensure that the new joint attachments would fit snugly and securely.
Creating Custom Jewelry using 3D Scanning

The NeoMetrix method of reverse engineering employs the use of 3D scanning technology for rapid and accurate data collection of complex geometry. In order to create a very special engagement ring for his fiance, our customer designed and sculpted an enlarged version out of clay. The challenge was to scale this model down to actual size for manufacturing.
The most common metalwork techniques used by goldsmiths, silversmiths and lapidaries to create jewelery, include sketching, 3D modeling, casting, cutting, welding or soldering, and cold-joining. For such small pieces, it even involves micro utensils & tools, plus a very precise microscope to zoom in and capture such small detail.
By using a 3D scanner like the Creaform GoSCAN Spark, capture 100% of the clay model's physical data. The final digital file is then scaled down to the appropriate size. This STL file of the 3D model can transferred to a milling machine to cut, or a 3D printer to grow a wax model for invesment casting.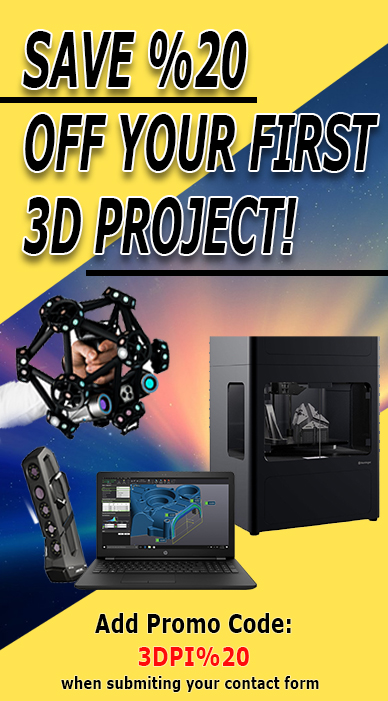 "My business partner and I found your service to be fast and personable. You treated us like your own family. Thanks for that!"
– Joel Stephens, CEO of Rejuvenation Corporation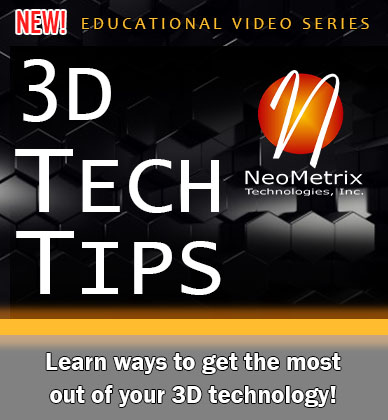 "I have been dealing with NeoMetrix for a few years now. As they have grown so has my company along with more extensive digital scanning/modeling needs. NeoMetrix is more than up to the task with the new technologies. Best part is I no longer have to go to their office as they have a team that comes to you! My most recent project is GlassSkinz(r) for which NeoMetrix has conducted all the digital laser scans and will be performing many more for me in the near future. I find the staff to be prompt , courteous and highly professional. I strongly recommend doing business with NeoMetrix."
– Steve Saporito, Owner & President of Dare 2B Different Motorwerks
Contact us for a FREE consultation
and get started on your project:
Enter promo code : 3DPI%20 to save %20 off your first project!