BigRep PRO 3D Printer
Our Largest-Build Volume 3D Printer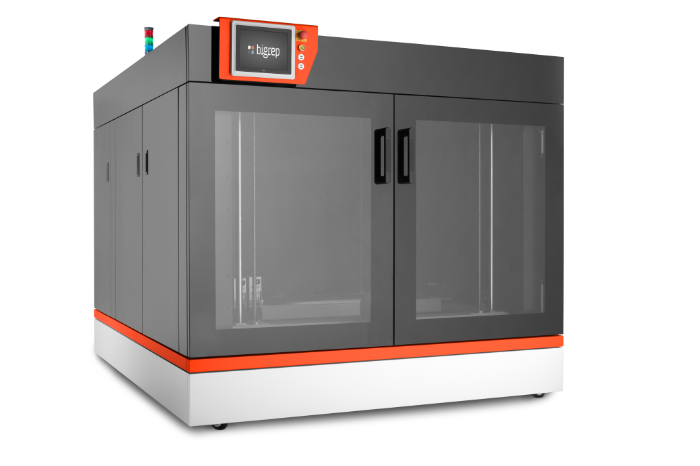 BigRep has had tremendous success in both the European and Asia/Pacific markets and is now coming to America in a big way. A large scale machine that is not only affordable but more importantly, reliable. Engineers and product design companies rely on this equipment in order for their businesses to grow. Architects, artists and entrepreneurs are utilizing the BigRep to maximize creativity and give a distinct competitive advantage to their cliental. And finally, the BigRep large build platform enables companies in the aerospace and automotive industries to print large tooling pieces quickly and affordably.
True to its name, BigRep makes machines for big prints, and the PRO is no exception. With a build envelope of one cubic meter, the machine is made for 3D printing of large-scale industrial objects, enabling countless application possibilities.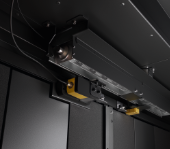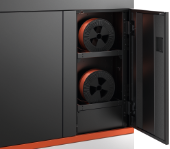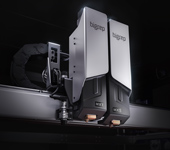 Metering Extruder Technology
(MXT)
Shielded Protection
An insulated enclosed frame ensures even temperature control, while the glass doors offer an optimal view of the printing session. Also improving safety is the PRO's compatibility with standard ventilation systems, for fume and emissions control, making it a first rate example for 3D printing in industrial environments.
Industrial Materials
The PRO provides the optimum environment for printing with industrial-grade materials, with a humidity controlled spool chamber. Air circulation fans within the machine ensure air flow for uniform temperature throughout the filament cabinet, which can store up to 4 spools of material.
Fast & Accurate
BigRep is introducing a metering extruder technology (MXT) with exceptional speed and precision, one of the defining features of the PRO. This state-of-the-art extruder allows for ultimate control on the deposition of materials, providing the highest possible quality for all applications.
Bosch Rexroth Technology
State-of-the-art Bosch CNC motion- control systems makes the PRO printers ideal machines for controlling the entire printing process, from start to finish. Widely used in the automotive industry, Bosch systems ensure maximum responsiveness, accuracy and closed-loop control in BigRep's industrial-grade machine.
Build Volume

x 945 y 970 z 985 mm / x 37 y 38 z 39 inches

Machine Size

x 1950 y 2500 z 2105 mm / x 78 y 98 z 83 inches (with tower)

Materials

Bio-Plastics: PRO-HT, PETG
Engineering Grade: ASA, PA6/66
Fiber Reinforced: HI-TEMP CF
Support: Water Soluble (BVOH)
3rd Party Material Compatibility

Slicing Software

BigRep BLADE

Extruders

ACE

Extrusion Technology

Fiber Ready Advanced Capabilities Extruder (ACE)
for materials versatility, Direct Drive Extrusion

Max. Extruder Throughput with 1 mm Nozzle

up to 130 g/h

Nozzle Diameters

0.6 mm, 1.0 mm

Layer Heights

0.3 mm, 0.6 mm

Achievable Part Accuracy

±0.2mm or ±0.002mm/mm (whichever is greater)*

Material Storage

2x sealed keep dry filament chambers supporting up to 8 kg spools each

Safety Certifications

CE, and EC Machinery Directive 2006/42/EC Compliant
* accuracy depends on part geometry and material used
Want to Learn More About 3D Printers?
Schedule a FREE Consultation Today!