XIP PRO
The Nexa XIP Pro 3D printer is engineered for professionals who demand nothing but the best. With advanced features and industrial-grade reliability, the XIP Pro is the perfect choice for small-scale production runs and high-detail prototypes.
Build Volume:  292 x 163 x 410 mm (11.5 x 6.4 x 16.10 in)
Material Compatibility: KeyModel Ultra – Ivory, xABS3843, xCE-Black, xCERAMIC3280, xDENT201-Gray, xDENT341-Beige, xFLEX402-Black, xFLEX475-Black, xFLEX475-White, xMODEL15-Gray, xMODEL15-White, xMODEL17-Clear, xMOLD, xPEEK147, xPP405-Black, xPRO410
LCD Resolution: 7K (6480 x 3600)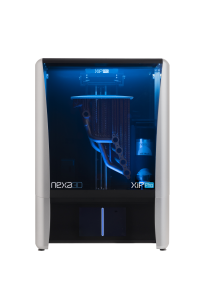 Nexa3D printing technology unlocks new possibilities in rapid prototyping and production. Our state-of-the-art 3D printers are designed to deliver exceptional precision, speed, and reliability, making them the perfect choice for a wide range of industries. Whether you're a product designer, engineer, or manufacturer, Nexa has the solution you need to bring your visions to life.
Ready to take your 3D printing capabilities to the

NEXT LEVEL

?
Contact us today to learn more about our innovative products and how they can benefit your business.
Schedule a FREE Consultation Today!