INTAMSYS 3D Printing Systems
| INTELLIGENT ADDITIVE MANUFACTURING SYSTEMS |
Infinite Possibilities
Our newest addition to available 3D printing equipment, INTAMSYS, now has 4 different models that are suited and optimized for up to thousands of industries.
Print using a wide range of high performance polymers & functional engineering materials that have the ability to meet many of today's extreme environments such as, chemical, impact, thermal, and electrical plus more!
Professional & Industrial 3D Printers starting from $7,500! Learn about the benefits to automate, save material, and save cost by having the INTAMSYS Complete 3D Printing Systems.
FUNMAT PRO 410
Start printing in a variety of high performance materials (PEEK, PEEK-CF, PEKK) and engineering materials (PA, PA-CF, PC, ABS) with a large build volume.
Whether you are working in the aerospace, automotive, power & energy or even railway industries, an infinity of applications possibilities lie ahead of you with the FUNMAT PRO 410!
Build Volume: 305 x 305 x 406 mm
Materials: : PEEK, PPSU, PA/CF, PC, PC Alloys, PA, ABS, Carbon Fiber-Filled,  ASA, ESD-Safe, HIPS, PLA, PVA, Supports, Fully Open Material System
FUNMAT HT
The FUNMAT HT is fully capable of 3D printing high-performance functional materials in addition to a broad range of engineering thermoplastics. Users can achieve 50-micron high-resolution industrial quality 3D printing of the FUNMAT HT.
The advanced thermal system design of this 3D printer includes a
 constant temperature chamber, 
160°C heated build plate, and 
450°C high-temperature extruder with all-metal hot end. 
Build Volume:  260 x 260 x 260 mm.
Material Compatibility: PEKK, PPS, Victrex AM200, PC, PC-ABS, PC-PBT, PC-FR, PA6/66, PA6-CF, PA12-CF, ABS, ABS+, ASA, PLA, PA12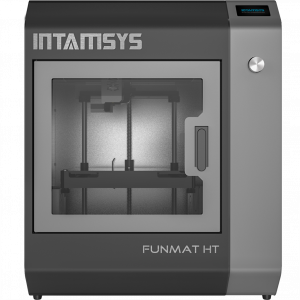 FUNMAT PRO 610HT
FUNMAT PRO 610HT is the latest addition to the INTAMSYS 3D printers FUNMAT series. It is an industrial high-end machine designed for producing critical requirement functional parts & rapid prototypes all the way to end-use parts.
The 3D printer's extremely high-temperature thermal system includes a 300°C constant temperature chamber,  and a 500°C extruder with all-metal hotend.
Using its dual nozzles, the FUNMAT PRO 610HT is ideal for printing full-size high-performance functional materials such as PEEK, ULTEM (PEI), PPSU & more.
Build Volume:
610 x 508 x 508 mm
Materials: PEEK, PEEK-CF, PEEK-GF, PEKK, ULTEM™ (PEI), PPSU, PC-HT, PC, PC Alloys, PA-HT, PA, PA-CF, ASA, ABS, HIPS, Carbon-Fiber Filled, Glass-Fiber Filled, ESD-Safe, and more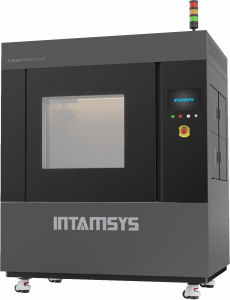 FUNMAT PRO 310 PREORDER
The INTAMSYS Funmat Pro 310 is a versatile and robust industrial-grade 3D printer. With a large build volume, dual extruder system, and advanced material compatibility, it delivers high-quality prints for various applications.
Build Volume: 
Dual: 260x260x260mm
Single: 305x260x260mm
Materials: :  >  Engineering materials: PA6/66, PA6-CF, PA12, PA12-CF, PC, PC-ABS, ABS, ABS+, ASA, PLA
>  Support materials: HIPS, PVA, SP3030, SP3050  > Open material system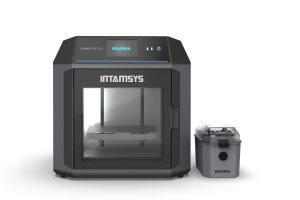 INTAMSYS High-Performance Polymer Materials
View the wide range of 3D Printing material available to meet the demands of any application or environment.
Contact Request Form | 3D Printing Equipment
Schedule a FREE Consultation Today!