XIP
The Nexa XIP 3D printer is a game-changer in the world of rapid prototyping. With its cutting-edge technology and high-speed printing capabilities, the XIP is designed to accelerate your product development cycle while maintaining exceptional detail and accuracy.
Build Volume: 195 mm, Y: 115 mm, Z: 210 mm (7.7 in, Y: 4.5 in, Z: 8.3 in); 4.8 Liter Print Volume
Materials: : Henkel, BASF, and Keystone combined with special in-house resins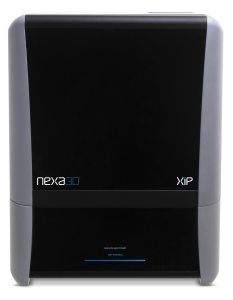 Nexa3D printing technology unlocks new possibilities in rapid prototyping and production. Our state-of-the-art 3D printers are designed to deliver exceptional precision, speed, and reliability, making them the perfect choice for a wide range of industries. Whether you're a product designer, engineer, or manufacturer, Nexa has the solution you need to bring your visions to life.
Ready to take your 3D printing capabilities to the

NEXT LEVEL

?
Contact us today to learn more about our innovative products and how they can benefit your business.
Schedule a FREE Consultation Today!