NXE 400 Industrial
The Nexa NXE 400 resin 3D printer is designed for those who require exceptional precision at a larger scale. Whether you're producing intricate dental models or highly detailed architectural prototypes, the NXE 400 delivers outstanding results with unmatched reliability.
Build Volume:
10.8 x 6.1 x 15.7 inch (274 x 155 x 400 mm)
Materials: xCast, xPRO410, xCE-White, x MED412, xCE-Black, 3843-ABS Black, xGPP-Translucent, xGPP-Gray, xGPP- Blue
Max Resolution: 7K (6480 x 3600)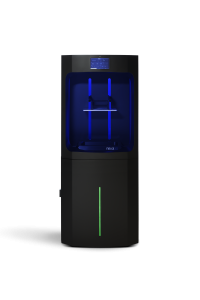 Nexa3D printing technology unlocks new possibilities in rapid prototyping and production. Our state-of-the-art 3D printers are designed to deliver exceptional precision, speed, and reliability, making them the perfect choice for a wide range of industries. Whether you're a product designer, engineer, or manufacturer, Nexa has the solution you need to bring your visions to life.
Ready to take your 3D printing capabilities to the

NEXT LEVEL

?
Contact us today to learn more about our innovative products and how they can benefit your business.
Schedule a FREE Consultation Today!